As I mentioned in my previous post, I read a LOT in 2016. 109 books, to be exact. (Snuck one more in after that previous post published.) It helps to have a long commute on public transportation, and it also helps to have an awesome library right down the street. I was very methodical about my reading in 2016, aiming to read books in certain categories (i.e. classics, memoirs, nonfiction, self-help) in the same month and planning in advance which ones I wanted to read.
And now it is time to tell you my top ten books of 2016. (Meaning top ten books I READ in 2016, not necessarily ones that came out last year.) Without further ado:
The Ice Cream Queen of Orchard Street by Susan Jane Gilman
This list isn't in any particular order, but if I had to pick a favorite of the favorites, this would be it. And I'm excited to recommend it because I don't know anyone else who's read it. I'd read, and raved about, Susan Jane Gilman's nonfiction, so I was excited to read her fiction debut. It spans 70 years in the main character's life, from her birth in Russia in the early 20th century to her move to New York as a young girl to her abandonment by her family to her marriage and career owning a successful ice cream company. She turns out to be a not-so-nice person- Gilman has described her as a cross between Scarlett O'Hara and Leona Helmsley- but you keep sympathizing with her in part, I think, because you've been following her through her whole life and know all that she overcame. It's a character-driven story, but the plot moves very quickly, and I just loved how right the character's voice feels. Warning: this book will make you want ice cream.
Hamilton: The Revolution by Lin-Manuel Miranda and Jeremy McCarter
If you're a Hamilton fan, this is a must-read. It's got several essays on the development of the show as well as many of its cast and crew members. It also has the complete lyrics with footnotes provided by Lin that give additional information on historical accuracy, his thought process in writing, references you might not pick up at first, and random trivia. I recommend reading the lyrics while listening to the soundtrack- you'll notice things you never picked up on before.
House of Sand and Fog by Andre Dubus III
This was super depressing but incredibly well-written. There are two people who both believe they are the rightful owners of a house: Kathy Nicolo, the alcoholic original owner whose house is foreclosed on due to a bureaucratic mistake, and Colonel Behrani, an Iranian immigrant with a wife and children who buys the house at a reduced price at auction and sees it as a step towards the American dream. It's told in alternating first-person perspective for most of the book, and while both Kathy and Colonel Behrani are very flawed characters, they both also have legitimate reasons to claim the house and good reasons for wanting to stay there. I was very invested in the story all the way through- while it's clearly not going to end well, I stayed interested in how we were going to get there.
The Girl Who Slept with God by Val Brelinski
Attention-grabbing title, huh? I saw this book in a bookstore and was intrigued by it. It takes place in a small town in Idaho in the 1970s, where two teenage daughters in a devout Christian family are sent away to a cabin at the edge of town after one of them returns from a mission trip pregnant with what she believes is the child of God. It's full of characters who could easily become stereotypes but never do. It's another sad but well-written book, and I love Val Brelinksi's unpretentious writing style. This is her first book, so I can't wait to see what else she writes.
Fun Home by Alison Bechdel
I decided to read this because I'd heard great things about the musical based on it (which I haven't seen) and I love Alison Bechdel for coming up with "the Bechdel test." I almost never read graphic novels or graphic memoirs or graphic anything- in general, I connect with words better than I do with images. So I was shocked that not only is the writing the best thing about this book, but it's sprinkled throughout with literary allusions and comparisons to characters from fiction and mythology. The cartoons certainly enhance the story, but it's the writing I really loved. It's the story of her father, who died after being hit by a truck in what she believes was a suicide. Shortly before his death, she had come out to him as a lesbian, whereupon he revealed that he was also gay. Bechdel strikes a great balance between portraying the emotion she felt in the moment and analyzing her past with the benefit of 20/20 hindsight. It's heartbreaking, sometimes funny, and just very well done in every way.
Can't We Talk About Something More Pleasant? by Roz Chast
This is also a graphic memoir, and I read this right after Fun Home. Oddly enough, they're both about relationships with and deaths of parents. In Can't We Talk About Something More Pleasant?, Roz Chast recounts her relationship with her parents as they lived well into their nineties and slowly began to die of, essentially, their ages. Since dealing with an elderly parent or grandparent is something so many people have experienced, I imagine most people will find this super easy to relate to, even if your parents aren't hoarders or extremely picky eaters. There are some very poignant moments- towards the end, Roz expresses regret that she and her mother weren't closer- but despite the grim subject matter, this book is funny more often than not. Her parents seem like characters from a 90s sitcom, for one thing, and although dementia is a very sad thing, sometimes all you can do is laugh at it. And it's hard not to laugh when Roz's mother starts telling stories about things that never happened, like her mother-in-law trying to kill her. One thing that did surprise me is that Roz's husband and kids are very rarely mentioned in the book. On one hand, I like that she kept the focus on her relationship with her parents (particularly since she's an only child, which makes the family dynamics a bit less complicated), but on the other hand, it would have been interesting to hear about how her parents influenced her own approaches to marriage and parenting. I'm now two-for-two with graphic memoirs, so if anyone knows of some other good ones, send some recommendations my way, won't you?
Did You Ever Have a Family by Bill Clegg
What an unexpectedly gorgeous book. It has one of the most tragic premises imaginable- the night before her daughter's wedding, June loses her daughter, her daughter's fiance, her ex-husband, and her boyfriend in a gas leak that destroys her home. (I wonder if the Madonna Badger story was the inspiration?) But rather than focusing on either the tragedy itself or on June's life after it, Clegg uses multiple first- and third-person narrators to show us the wider view. We learn all of the backstory that brought the characters to the moment where everything literally exploded, and it's done with just enough detail to make it moving but not sappy. It also manages, in a way that's amazingly devoid of cliche, to convey hope in the end. In short, this was beautifully written- well done, Bill Clegg!
My Sister Rosa by Justine Larbalestier
This was the best young adult book I read last year. Basically, there's a teenage boy with a ten-year-old sister he's sure is a sociopath, although no one seems to believe him. It keeps you in suspense throughout, and while it's clearly building toward something big, the specifics of it aren't easy to predict. I also really liked that the love interest is a liberal Christian with two moms- it's super rare to see a portrayal of that kind of Christianity in fiction.
The Future of Us by Jay Asher and Carolyn Mackler
Looking over these, I have a lot of really dark and depressing books as favorites. Yeesh! But here's one that was much lighter. It's a fun concept- two teenagers in 1996 log onto AOL and are able to see themselves on Facebook 15 years in the future. It strikes a tone that a lot of YA books miss- funny without being a straight-up comedy, romantic without being fluff- and it mostly stays away from high school cliches. And I laughed at a lot of the moments when they don't understand life in the next century (they're very confused about why people say they miss Pluto and don't know what texting is).
Where Am I Now? by Mara Wilson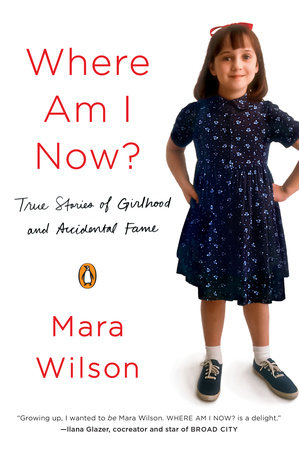 Mara Wilson is freaking awesome. As a little kid, she was famous for acting in movies like Matilda, Mrs. Doubtfire, and Miracle on 34th Street, but as an adult, she's famous for being cool on the Internet. If you're familiar with her writing, this book is just as funny, touching, and well-written as you'd expect. One really surprising thing is how easy a lot of her stories are to relate to. No, most of us weren't on movie sets as young children, but Mara shares stories about girl drama in high school (over show choir, hilariously) and awkwardness around cute guys that most of us can see ourselves in. But there's plenty of on-set stories, too. If you're looking for any Hollywood dirt, you won't find it- while there's a lot about the pressure they put on people to look a certain way, she actually has nothing but nice things to say about her old co-stars, especially Danny DeVito. (I was fairly indifferent towards him before, but she shares some really sweet stories about him here.) Mara has had to deal with some adversity that has nothing to do with acting- tragically, her mother died of breast cancer when Mara was eight, and she also suffers from severe OCD and some other mental illnesses. But this book has a lot of funny moments and Mara has a great knack for succinctly summing up truths about life. I saw her speak at a book signing when this first came out, and I'm happy to report that she's also really funny and engaging in person.
What were your favorite books of last year?